How To Score a Risky Email List With BlackBox
Have you ever had a customer wanting to use your email marketing platform and you weren't quite sure of their intent or their savviness of the nuances of email marketing? Can their data put your system in a lurch and harm your reputation? BlackBox is the one unique data set that allows you to determine just that, before your customer ever mails.
What is BlackBox?
First of all, let's start with defining BlackBox. BlackBox is a huge database composed of nearly every highly traded toxic email on the market today. With these emails should come caution. Why? Because they are more than likely unengaged at the very least and potential spam traps or litigators at the worst. In order for an email to make it into our database, it must be matched from multiple sources across different verticals. We source and curate toxic email data that can be detrimental to list health and deliverability.
Upload Your File
Let's take a look at an example. After signing up and choosing a plan (Hint: There's a FREE plan!), you will be able to login to the web app and upload a file to test.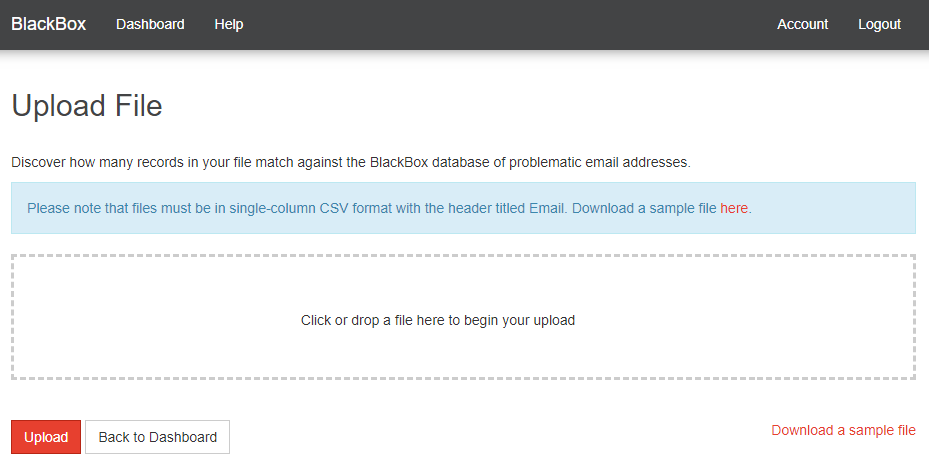 Either click or drop a file in the upload area and click the red upload button in the bottom left hand corner. You will receive the success notice for your upload. Depending on the size of your test file, you can click "Back to Dashboard" and review your results or wait for your results to arrive by email.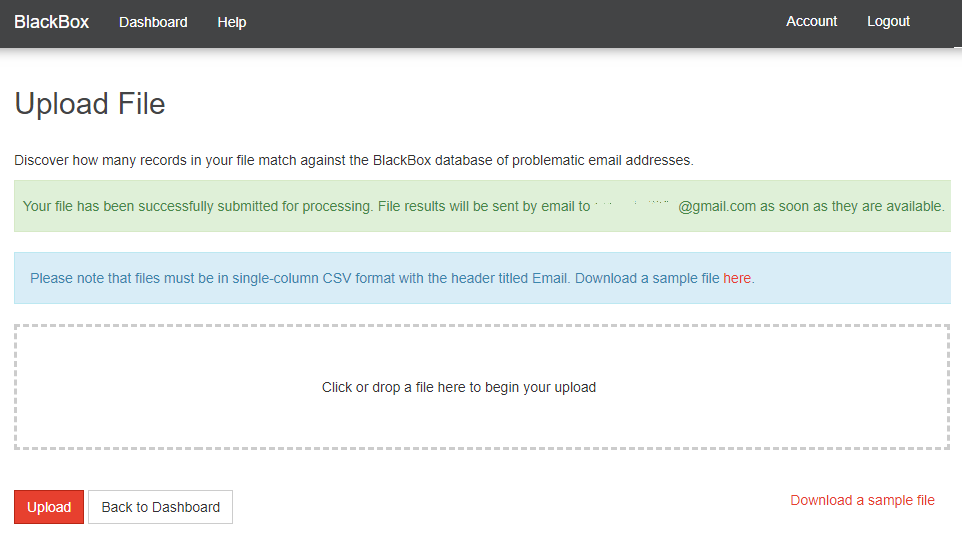 Here are the results of the test file dashboard view and email view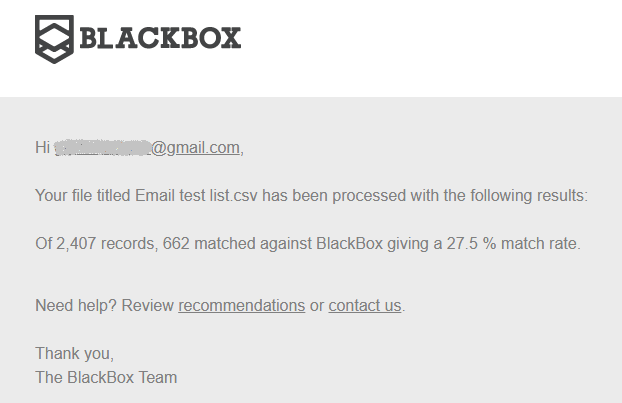 Analyze Your List
Of the 2,407 records scanned, 662 or 27.5% matched against BlackBox. This can mean different things to different companies depending on their unique business rules. We provide some basic recommendations here.
For those with a low tolerance for risk, the customer might be contacted and referred for list hygiene before acceptance. For those with a high tolerance of risk, this percentage matched is still high, but the customer might be closely monitored for adverse effects to deliverability before contacting.
No matter what your chosen business rules may be, the higher the match rate, the higher the risk to sender reputation.
Threat Code Granularity
For those that prefer greater granularity in email list analysis, we provide additional threat codes at the Plus and Pro levels to identify the overall risk rate of files as well as determine the population rates of all associated threat codes including:
- Purchased

- Spam Trap

- Hard Bounce

- Complainer

- Hacked

- Litigator
These aggregate list level metrics are secondary signals and give greater insights into your list as shown in the emailed results for the same file as above.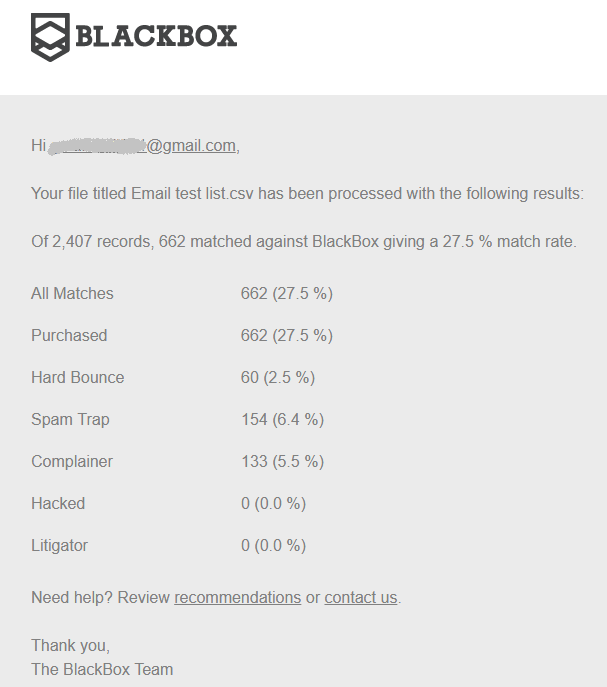 All matched records will show as Purchased and if we have additional threat codes associated with an email record, we report those as well. As we receive new information about an email, i.e. the other threat codes; we append the record with the new toxic code. Since the same email can be received from more than one source with different information, more than one threat code can be associated per record.
Know Your Email List
With this additional information, would you simply monitor the customer or recommend list hygiene?
How do your customer's email lists stack up against BlackBox? Choose a plan and find out.