This article is published in collaboration with HubSpot which we use to power inbound marketing and CRM for BlackBox.
As email service providers, email marketing agencies and email marketers can attest, not every email contact is created equal. And if your email marketing program does treat them equally, well, that's pretty whacked. And as a result, I suspect your open, click-through, and email deliverability rates are quite whack as well.
There are two reasons for this. First, there's more than one way to opt-in to permission-based emails, and different content is required based on how someone has opted-in. Second, the better you are at lead nurturing, sales, and customer service, the more likely it is that a contact in your email database will change email needs over time because they've changed the type of email under which they are categorized in your database.
Uhh, what? If you're confused, don't worry -- it's all actually pretty simple once we get down to brass tacks. So, let's do that without further ado. This post will identify the four different types of email addresses may find in your database and outline how an email marketer should treat them in their email marketing and lead nurturing campaigns.
How to Treat Purchased Email Lists (Highest Level of Risk)
Email marketers should never send email to purchased email lists yet it happens all too often; despite the mountains of evidence that demonstrate that are no shortcuts to email marketing success.
Those who work full time in email delivery or privacy or compliance know that poor data management practices, especially mailing to permission-less or aged email lists, with unknown sources, are the root cause of all serious email deliverability problems.
Sure, these risky email addresses are bad for business, for email marketers and email senders alike, but they're hard to identify without sending email to them and in turn causing real harm. But marketers be warned, many of today's most popular email service providers can preemptively detect purchased email lists, in order protect themselves against bad actors and unwitting senders, by using email compliance tools like BlackBox.
How to Treat Subscribers (Lowest Level of Engagement)
A subscriber in your email marketing database is someone who has opted in to receive email related only to a specific type of content. The most common example of a subscriber is a blog subscriber. And you know what happens when you become a subscriber to a blog and nothing else? The only emails you receive from us are emails alerting you that a new blog was posted.
That's it.
Think about it this way. If you subscribe to Life magazine, and then Time Warner decides they should also send you In Style magazine, because hey, you'd probably like it ... isn't that what you'd call junk mail? Luckily (err, unluckily) print junk mail doesn't have the same dire repercussions as junk email -- but that's exactly what your email would be considered if you suddenly sent your blog subscribers emails about your latest ebooks.
It really just boils down to email marketing best practices -- only email content that will be relevant to the subscriber's interests. And how do you determine what they're interested in? Well, one way to know is by them telling you. And that's what subscribers have done! They told you exactly what content they want to receive from you, and that's where the email marketing line gets drawn.
That doesn't mean, however, that you can't use the real estate in that email to try to reconvert them into a different type of email contact. At HubSpot, we perform tests in our blog subscriber alert emails to gauge whether blog subscribers are interested in our marketing software.
How to Treat Prospects (Fairly Unengaged)
In your company, a prospect might be someone in your email database that isn't quite ready to be elevated to the status of 'lead' and be worked by a salesperson. Again, you may call them something else within your organization -- call them purple people eaters if you want, point is, these people aren't very engaged with you right now. They have, however, indicated interest in your company, products, or services above and beyond simply subscribing to receive an update that a new blog post was published. So there's an opportunity here to increase their engagement level! To do that, we have to consider why they are still living in the 'prospects' stage.
Two things may have happened that result in these contacts living in the 'prospects' stage -- either they have never "raised their hand" to indicate they are interested in being contacted by a salesperson, or they did raise their hand but have long since become cold. As a result, they will need to "raise their hand" again to move back along into the 'lead' stage.
So, what types of email might a prospect receive to make them raise their hand again? Well, let's consider scenario #1 first -- they have never indicated they are interested in being contacted by a sales person. Your goal here, then, is to get more information about this prospect so you can deliver content extremely targeted to their needs. And how do you do that? By delivering ridiculously high-quality offer content that prompts them to reconvert on a landing page form, thus gathering more information about them and what type of content resonates with them. The more you know about your prospects, the more you can segment your prospect list; the more you segment your list, the more targeted your email content can become; the more targeted your email content, the more likely you'll give these prospects the ol' razzle-dazzle that makes them want to learn more about your company's solutions -- you know, the feeling that leads have! Are those prospects' hands being raised? ;-)
If they have, however, talked to a member of your sales organization in the past and have simply gone cold, consider implementing a re-engagement campaign to reawaken their interest in your products and services. Because they've been a lead in the past, you should have plenty of lead intelligence that you've gathered from the forms they've filled out and the conversations they've had with their sales person. Use the information you know about them, particularly the reason for not becoming a customer, to deliver email offer content tailored to their pain points.
For example, perhaps one of HubSpot's formerly engaged leads was also a HootSuite customer, and their biggest pain point was excellent social media lead nurturing. Well, a couple years ago maybe our software couldn't help them out that much, but now that we've partnered with HootSuite to provide, well, social media lead nurturing -- we could send some offer content that addresses their exact pain point, and increases the likelihood that they see us as a potential solution to their problem instead of just a resource for educational content.
How to Treat Leads (Engaged)
We've talked a lot about what prospects are in relation to leads, so you've probably already figured out the definition of a lead as it relates to your email marketing. Leads are defined as -- in this blog post, anyway -- the contacts in your email database that have shown interest in your company above and beyond simply educational offer content. No, they want to know about the solutions you provide. These folks could be in one of two stages of the sales cycle: 'Evaluation' or 'Purchase.'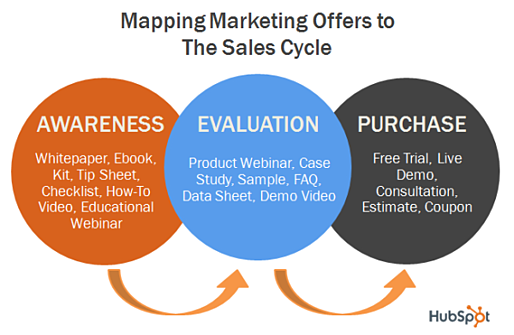 There are certain types of content assets -- case studies, FAQs, data sheets, and the other types you see in the 'Evaluations' circle above -- that indicate a lead is interested in your product or service, not just your educational content. Then there are types of content assets -- like free trials, estimates, consultations, and the other types found in the 'Purchase' circle above -- that indicate a lead is really, really, really interested in your product or service. To determine which stage a lead is in, just take a look at their form data to see the type of content your lead is downloading. This lead, for instance, is in the 'Purchase' stage since they've asked for a free trial of our software.
Now that's a seriously engaged lead! At this point in your email marketing, you should be vigilant about following up with both automated email offers, as well as personal emails from your sales team. If your lead is in the 'Evaluation' stage and has downloaded, say, a case study about how to use your product within a specific industry, then up the ante in your next email with an offer for a free consultation with one of your industry specialists! Or if they've already had that consultation, you better be sure that consultant is sending personal emails alongside your automated emails to offer a free trial of your product. An engaged lead is not the time to be sheepish with your stellar email offers.
How to Treat Customers (So Engaged They Put a Ring on It)
Turns out your free consultation worked. Great job! You have a new customer, and now they should be moved into an entirely new segment of your email list ... the customer segment! Now, every company will have different email content that their customers need to receive -- welcome emails, payment emails, order reminders -- we'll leave that up to you to sort out. But just because you've converted a lead into a customer doesn't mean you're done marketing to them. You should be using your email marketing chops to keep your customer educated and engaged with your company, and maintain your status as a thought leader and industry resource.
First, remember that your customers may still be converting on offers typically reserved for those in a lead or prospect stage. Think about it, if you maintain an excellent business blog with call-to-action for educational content, or you're active on social media and your customers convert on the offer content you post, you'll still be emailing them with ebooks, whitepapers, kits, and the like. The difference will be that you should denote in your list segmentation that these are customers that should not be on a lead nurturing track that tries to sell them on bottom-of-the-funnel offers -- they should simply continue to receive educational content that makes them better, smarter, faster.
But you should also be sending customers emails that make them better, smarter, faster with your product or service. The more customers use you (in a good way), and use you correctly, the more likely it is they'll be successful with you. And success means they'll stick with you longer (higher lifetime value!) and refer more customers your way (super low cost of customer acquisition!).
So do what you can to automate email tips and educational content based on triggers from your CRM and marketing software. Have your customers visited a lot of help pages recently? Maybe you should offer them a free consultation with a support representative. Are your customers not using an important feature of your product? Send them a guide on how to use it, and why it will help them be better. Did one of your internal consultants note in your CRM that a customer needs more sophisticated products and services that you offer? Well, then they're both a customer and a lead -- send them a free trial so you can upsell that customer into an even more valuable customer!
Are you segmenting your email lists based on your contacts' level of engagement with your business?
---

About the author: Corey Wainwright is a Bruce Springsteen fan who does content marketing, in that order. She also thinks HubSpot has the best CRM software out there.